Itinerary
A sample itinerary for a Southwestern Getaway (4/5 nights priced for 30-60 people).
Day One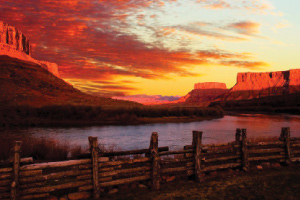 The view from Red Cliffs Lodge
Late pm arrivals and transfers to Red Cliffs Lodge.
Geology presentation on the banks of the Colorado River.
Dinner (prime rib buffet) cowboy singer with acoustic guitar.
Day Two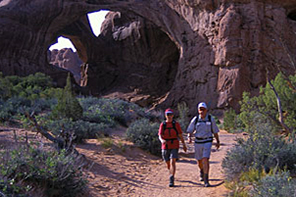 Hiking at Arches National Park
7 – 8 am. Breakfast.
9 am.  Meetings (conference rooms or breakout rooms available).
12 noon. Working lunch.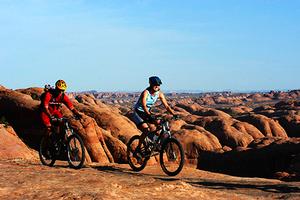 Mountain biking
or
9 am.  Hike to the windows section in Arches National Park with picnic lunch.
1.30 pm.  Mountain bike to see dinosaur tracks at Klondike Bluffs, a remote area of Arches National Park or take the blue buffalo tour to view Native American rock art (min 2, max 30).
6.30 pm.  Bar M Chuckwagon for live western show and cowboy supper.
Day Three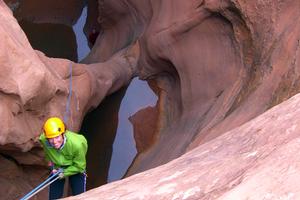 Canyoneering
7 – 8 am.  Breakfast.
9 am.  Meetings.
or
Hike through the needles of Fisher Towers. (Interpretive guide with flora and fauna presentation).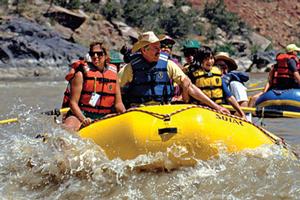 Whitewater rafting
or
9 am – 2 pm.  Canyoneering down Morning Glory Arch and hike through Negro Bill Canyon with picnic lunch (min 3, max 25).
2.30 – 6.30 pm.  Rafting on the Colorado River.  Whitewater rafting, light rapids (min 4, max 60).
7pm Dinner at the Sunset Grill, former home of uranium millionaire Charlie Steen.
Day Four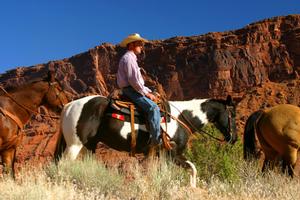 Horseback ride at Red Cliffs Lodge
6 am – 2 pm.  Sunday brunch.
At leisure to enjoy the hotel facilities:
Swimming pool, gym, volleyball, tennis, horseshoes
Moab Museum of Film and Western Heritage.
or
8.30 – 11.30 am Horseriding from Red Cliffs Corral across Castle Creek to Castle Rock (min 2, max 24).
6 – 9 pm.  Dutch oven dinner (followed by sound and light cruise on the Colorado River).
Day Five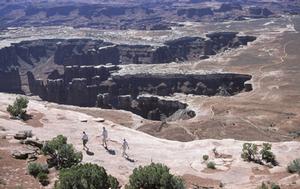 Hiking at Grand View Point
7 – 8 am.  Breakfast and airport transfers
or add a 5th night:
9 am.  Hike in Canyonlands National Park to Mesa Arch and Grand View Point.
1pm.  Lunch at one of Moab's many eateries, followed by:
Shopping for western and native art and crafts,
Dan O'Laurie Museum, art galleries, historic walking tour.
7 pm.  Dinner in Moab at a fine dining restaurant accompanied by live trumpeter and guitarist.
Day Six
7 – 8 am.  Breakfast and airport transfers.
Details
PRICES
4 nights 30-60 people - $1660 - $2450 per person
5 nights 30-60 people  - $2055 - $2950 per person 
We can mix and match all itineraries to create the perfect combinations for your group.
Travel to Moab can be arranged from Denver, Grand Junction or Salt Lake City by coach or plane.
All itineraries include airport shuttles to/from Moab airport, transfers to/from all venues, meals (including 3 course dinners), snacks, entry fees. Not included are gratuities for guides or alcoholic beverages.
All meeting rooms are available every morning and afternoon.
Outdoor activities depend on the time of year.
Prices are subject to change.